SUMMARY OF PROFESSIONAL EXPERIENCE:

THIRTHY-FIVE (35) YEARS of in-depth EXPERIENCE IN MECHANICAL DESIGN AND VARIOUS CONSULTANCY WORKS. Experienced in the various fields of design, specifications, construction and project management, commissioning, troubleshooting and analysis, maintenance and contracting, as well as various stage of implementation of various projects in light buildings, commercial malls and high-rise buildings and heavy industrial plants and machinery settings.

Focused on Energy savings and value-engineering.

- SERVED AS "SUBCONTRACT TO MAJOR CONSULTING COMPANIES" and contracted by some of the largest and most well-known consultancy corporations in the Philippines and in the world.

- has also served AECOM MAUNSELL PHILIPPINES INC (No. 1 Design firm in the World"

according to ES Engineering magazine among others) with a PHP2.8M consultancy services contract (2011 - 2013).

- has also served DCCD PHILIPPINES INC with a PHP1.3M consultancy services contract for Shangri-la Mall Renovations, (2012 - 2013).

- has also served Meinhardt Philippines Inc, with consultancy services contract worth PHP3.0M (2008-2010). He has also served on various projects as design and consulting engineer to Pilipinas Shell Petroleum Corp, Trane Philippines Inc, and various other companies on a per project and consultancy basis. As mentioned, Engr. Rosen B Sanchez was also hired by

Hitachi Plant Engineering - Voltas - ETA J.V. Inc. – a joint venture under Samsung Corporation's "Design and Build" – to serve as HVAC CONSULTANT for the MEP contract for the Dubai Burj Khalifa project.

TECHNICAL PAPER PUBLICATIONS. Technical paper presented "Using AHSRAE 55-2010 to Improve your Air Conditioning Design for Energy Savings" delivered to the PSME-NATIONAL CONVENTION of the Philippine Society of Mechanical Engineers) in the year 2011, SMX Convention, Mall of Asia, Manila. on November 10, 2011. Technical Publication on "Can ASHARE Go Wrong" published by the The Mechanical Engineer Magazine of the Philippine Society of Mechanical Engineers, Makati City on a December 2010 publication.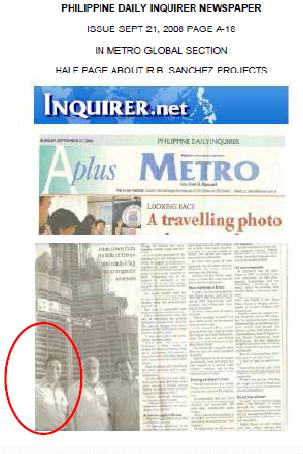 FEAUTURED IN NEWSPAPER PUBLICATIONS. As engineer merited publishing as NEWS ITEM IN NEWSPAPERS HERE AND ABROAD: PHILIPPINE DAILY INQUIRER. Issue Sept 21,2008 . "Engineer finds progress in Dubai " (half page with picture) as the Filipino Engineer in Dubai as the HVAC Design Manager - tallest building in the World. The Burj Dubai Khalifa Tower.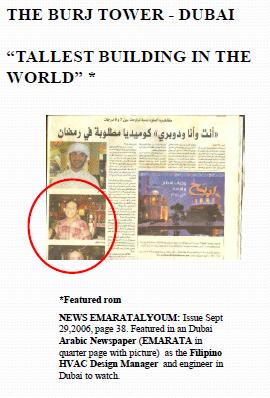 NEWS EMARATALYOUM. Issue Sept 29,2006 . Featured in an Arabic Newspaper (EMARATA in quarter page with picture) as the Filipino HVAC Design Manager and engineer of Burji Khalifa Tower in Dubai.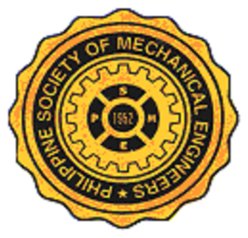 MEMBERSHIPS:
Vice-president Technical Affairs, PSME (Philippine Society of Mechanical Engineers), Makati Chapter-2012
PSME Makat, Board of Directors, Years 2009 to 2011.
Life Member, University of the Philippines Alumni Association
For more details, please download the complete CV here.